ORBERA® Gastric Balloon Procedure
ORBERA Gastric Balloon Procedure – Offering Overweight Australians
a Kick-Start to Sustainable Weight Loss
The ORBERA® Intragastric Balloon is one of the simplest and least invasive procedures we can perform for impressive weight loss results.
This fully comprehensive weight loss system is surgery free and involves temporarily inserting a gastric balloon into the stomach to make the patient feel fuller after meals.
This procedure is also backed by a clinically proven lifestyle modification program that involves the implementation of a specific and tailored diet to suit your lifestyle and weight loss journey. This program will be fully implemented after your gastric balloon is removed to ensure you can stay on the path towards a healthy weight in the long-term.
You will have access to a team of professionals including a physician, dietician, a fitness expert and a psychologist to ensure you stay on the right path towards your weight loss goal. You will be guided through a healthy eating plan, a specialised and tailored fitness regime, and you will also receive help to prepare yourself mentally for the journey ahead.
By combining an effective clinical procedure with a significant lifestyle change, you will have the best chance possible to lose the excess weight and keep it off in the long term. Take the time to watch our video below for further insight into this procedure and how it can help you achieve your weight loss goals.
Is the Gastric Balloon Right for Me?
The ORBERA Intragastric Balloon is a non-surgical weight loss procedure designed to assist overweight patients with a BMI between 27 and 35 who want to lose 10-15kg.
The program also suits those who don't want to undergo surgery for weight loss, but are motivated and ready to comply with a medically supervised lifestyle modification program that includes portion control through forced behaviour modification.
The ORBERA System is also suitable for those needing to lose weight to suit their orthopaedic surgery needs or those in the super obese category who may benefit from non-surgical weight loss before being admitted for a necessary surgical procedure.
Individuals with a BMI greater than 35 may also be approved for the procedure, but approval will be needed from Dr. Braun (our Surgeon). Generally, surgery is the preferred option for anyone who falls under the super obese category. If you have a BMI greater than 35, please see our weight loss operation comparison table for easy to read insights into the options available.
You can gain a better understanding of your weight loss needs by using our BMI Calculator to determine your current Body Mass Index.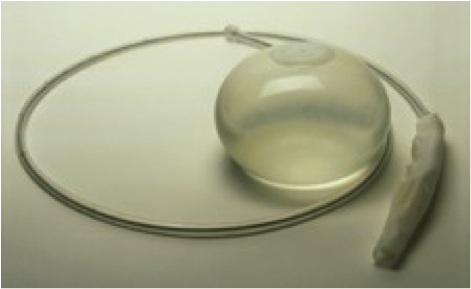 What to Expect When Choosing the a Gastric Balloon for Weight Loss
ORBERA Intragastric Balloon is much more than a procedure to assist you with weight loss. This weight loss solution combines two clinically proven weight loss techniques for proven and long lasting results. The two components include:
• A 20-30 minute non-surgical procedure that involves inserting a balloon into the stomach temporarily. The gastric balloon will be removed after a 6 month period. This procedure kick-starts the weight loss process, making it easier to lose the kilos in the initial stages.
• A 12-month lifestyle modification program that includes support and intervention from the clinic's dietitian, and exercise physiologist. With professional help and support by your side every step of the way, you will be well equipped to maintain a healthy weight after the gastric balloon is removed.
How to Prepare for an ORBERA Intragastric Balloon Procedure
Despite this being a very simple procedure to complete, there are a number of preparations you must make beforehand. Firstly, the physician will ask you to follow a specific diet regime. If you have any routine prescription medications, please discuss this with your physician at your initial meeting. You will also receive a prescription for medications to take after the procedure is complete.
On the day of the procedure, make sure you are wearing comfortable clothing and shoes. Please do not wear any makeup or contact lenses. You will also need to arrange for someone to take you home after the procedure, as patients will not be allowed to drive or take public transport on their own.
What is involved in the ORBERA Intragastric Balloon Procedure?
This endoscopic procedure involves placing a non-fixed saline-filled silicone balloon in the stomach, reducing the food-holding capacity and calorie intake. The gastric balloon is inserted deflated through the oesophagus (gullet) and filled with saline while patients are under a low dose of anaesthetic.
The procedure takes 20-30 minutes and offers many overweight individuals a non-surgical alternative to weight loss surgery, including those who don't have private health insurance to help fund the cost of more expensive surgical procedures, like laparoscopic adjustable gastric banding, Gastric Sleeve Surgery, or Gastric Bypass Surgery.
What to Expect After your Gastric Balloon Procedure
The ORBERA Intragastric Balloon procedure has one of the shortest recovery times compared to other surgical options we perform. Once the gastric balloon has been inserted into the stomach, the patient can be discharged within 2 hours after the procedure has taken place.
Please be aware however that you may experience side effects including nausea, vomiting or cramps during the first two or three days after the procedure.
When recovering from the procedure, ensure you have everything you need within arm's reach such as clear juice or broth to drink, ice blocks, plenty of water, multivitamins and the prescribed medication.
The gastric balloon will remain in the stomach for 6 months, with expected weight loss results to be in the region of 10-15kg. The 12-month lifestyle modification program will also complement this procedure to assist patients with ongoing weight loss and maintenance following removal of the balloon at 6 months.
About the Lifestyle Modification Program
When taking part in the lifestyle modification program, you will have a highly trained team of experts on hand to guide you through the weight loss process.
You can make individual appointments with any member of our lifestyle modification program team, which is made up of surgeons, bariatric GPs, dietitians, psychologists and exercise physiologists. Whatever questions you may have, we will have an expert on hand to help.
This program will have a 12-month lifecycle to help change your lifestyle for the better. We believe that long-term solutions will create lasting results when it comes to losing weight and leading a healthy lifestyle that you can stick to.
We will help to design a program that specifically suits you with regular one-on-one consultations that will take into account your current life commitments and work around them, allowing this program to blend seamlessly into your current lifestyle.
Please see our lifestyle modification program page for full details on this valuable part of our service.
Why Choose us for the Gastric Balloon in Brisbane?
At Lap Surgery Brisbane, we have extensive experience in performing this procedure for a range of clients to provide meaningful weight loss that can be maintained.
When you choose us to perform this gastric balloon procedure, you can feel confident knowing our physicians have been trained by leading bariatric centres in both Australia and the USA.
We will work with you to develop the best weight loss strategy for you, answer any questions or concerns you may have and treat you with the utmost care before, during and after the procedure has taken place.
How Much Will the Gastric Balloon Cost?
This procedure generally costs about $500 a month over a period of one year. Please contact us directly for a personalised quote on how much the gastric balloon will cost.
Success Stories
ORBERA Intragastric Balloon continues to show proven results time and time again with many patients experiencing real and significant weight loss, along with gaining the ability to maintain a healthy weight in the long-term.
Watch Angela's story below to learn about how the gastric balloon and lifestyle modification program helped her lose weight and improve her quality of life.
Visit the ORBERA Success Stories page for further testimonials and insights into how a gastric balloon Brisbane procedure could improve your weight loss success.
Contact us Today for Gastric Balloon Brisbane
If you are interested in pursuing any of our laparoscopic procedures, or any other weight loss surgery we have in Brisbane, please complete our registration form and return it to us either by email, post, fax, or simply pop in and meet our friendly staff.
To schedule a surgical consultation with Dr Braun, or to discuss how much a gastric balloon will cost, please contact us or call direct on (07) 3353 9694.