The basics of Duodenal Switch.
Biliopancreatic persion with duodenal switch (BPD/DS) is a modification of the bilio-pancreatic diversion that has many of the attributes, but with fewer side effects.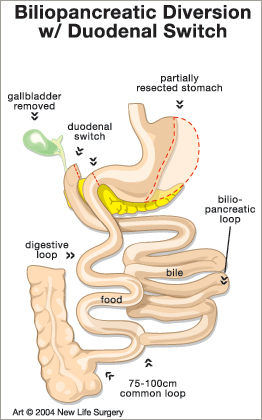 Advantages of Duodenal Switch
This procedure combines the sleeve gastrectomy with a longer bypass of the intestine than the gastric bypass, so that it maintains the metabolic power of the biliopancreatic persion with less diarrhea and gas issues.
Risks of Duodenal Switch
Unfortunately, the complexity of the operation makes it one of our most risky procedures and is usually done in two stages: the first being a sleeve gastrectomy, followed by the intestinal bypass, six months to a year later.
More information about Duodenal Switch
Should you determine this to be the best weight loss surgery for you, know that we'll be with you every step of the way!
If you are interested in pursuing any of our laparoscopic procedures, or any other surgical weight-loss solution with the Weight & Metabolic Solutions Australia located in North Brisbane, please complete our registration form and return it to us either by email, post, fax, or simply pop in and meet our friendly staff.
To schedule a surgical consultation with Dr Braun, please contact us or call direct on 07 3353 9694
and on our alternate web page: www.metabolicsurgeryaustralia.com.au